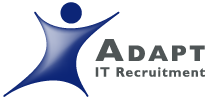 Candidates
Whether you are looking for your next career move or your next contract assignment, Adapt IT is ideally placed to assist you.

We regularly liaise with many clients who may be able to offer you the opportunity to progress with your career or provide you with your next contract commensurate with your experience. We actively recruit for a full range of IT professionals across a wide range of technical domains.

Our online Candidate Registration process below is available to all candidates, alternatively, simply email, fax or post your CV directly to one of our Consultants. All candidates are contacted prior to details being submitted to any client. We provide advice and guidance on potential career changes and assess your salary/rate expectations.

To view our current jobs database for either permanent or contract vacancies click here, alternatively select advanced job search from the menu.