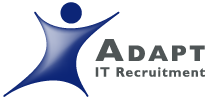 Services
Adapt IT Recruitment provides comprehensive recruitment solutions, offering a flexible, dependable and adaptable service for Clients and an effective, efficient approach to Candidates.

Permanent Recruitment: Adapt IT has an extensive range of vacancies available when looking for your next career change.

Contract Recruitment: Looking for your next contract or perhaps looking for an experienced contractor?
Executive Search: You know just what you want but just can't seem to find it?

Managed Agency: Need to recruit multiple staff or just want to take the headache out of recruitment?

Advertising & Marketing: Adapt IT are able to supply professional and innovative recruitment advertising, marketing and other media solutions.