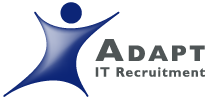 Contract Recruitment
If you're contemplating a career in contracting or are looking for a new contract, Adapt IT are able to offer an extensive selection of available contracts to complement your skills, rate expectations and abilities.

Contract durations vary and rates are dependent on experience and Client's budget. Our margins are competitive and we pay on a weekly basis. In cases where you require the services of a contractor, Adapt IT are able to provide a vast selection of skilled contractors with varying levels of expertise throughout the UK.

Clients requiring the services of a contractor need to be aware of current legislation relating to the use of contractors. Adapt IT keeps abreast of current legislation to ensure that any contractors provided by us work in accordance with the latest government practises. Prior to commencement all contractors provided by Adapt IT are interviewed and reference checked.