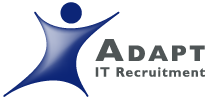 Adapt IT Recruitment - Our Principles
People because people lay at the heart of our business – Clients, Candidates and our own staff, we believe and ensure that everyone is treated fairly, equally and with respect.

Honesty
We all like honesty but sometimes we don't always get it. Our approach is always the same – to be honest with everyone. Whether you're a Candidate with unrealistic salary expectations or a Client that expects a "Guru" for a trainees salary then we'll be honest and tell you.

Service
We believe that it is our responsibility to provide excellent levels of service to all of our clients and candidates and we try hard to achieve this. Our aim is to make the recruitment process simple, painless, cost effective and efficient.

Professionalism
All of our consultants are experienced and knowledgeable and have a professional approach to recruitment and to everyone we come into contact with.