The UK's economy grew at a faster pace than initially estimated last year, revised official figures show.
The economy grew by 0.6% in the final three months of 2014, up from the previous estimate of 0.5%, the Office for National Statistics said.
The unexpected increase meant growth for the year was 2.8%, higher than the earlier estimate of 2.6%.
The revised rate marks the highest pace of annual growth since 2006, when the economy grew by 3%.
An expansion in both production and services as well as household spending helped to drive the increase, the official data suggested.
But the biggest contribution to the revised figure was a strong performance of exports, the ONS said.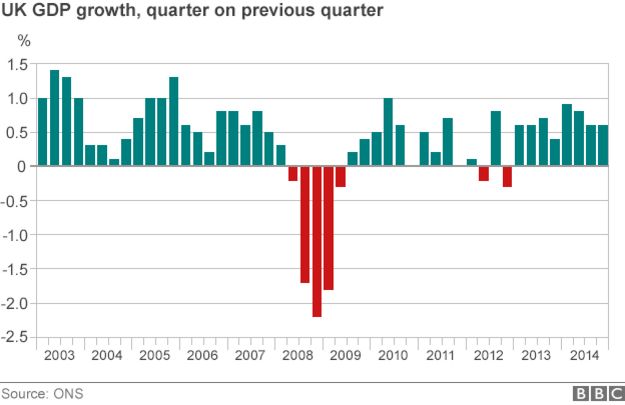 'Vulnerable'
The revised figure was revealed alongside data showing that the UK's current account deficit - the gap between the income paid to, and received from, the rest of the world - narrowed in the final quarter of last year.
The deficit in the three months to December was £25.3bn, down from the record-high of £27.7bn recorded in the previous quarter.
But for the year as a whole, the deficit widened to 5.5% of GDP, marking the largest annual deficit since records began in 1948.
UBS economist David Tinsley said the large deficit largely reflected weakness in UK overseas earnings "which may turn around if the eurozone recovery heats up".
"Still, regardless of the cause, funding a deficit of this size makes the UK vulnerable in a year when political uncertainty is relatively high," he added.
'Touch pessimistic'
Separately, UK consumer confidence rose to its highest level in more than 12 years in March, a survey from researchers GfK showed.
And separate figures from the ONS showed that the financial well-being of UK households improved last year.
Overall, economists suggested the figures boded well for the UK economy this year.